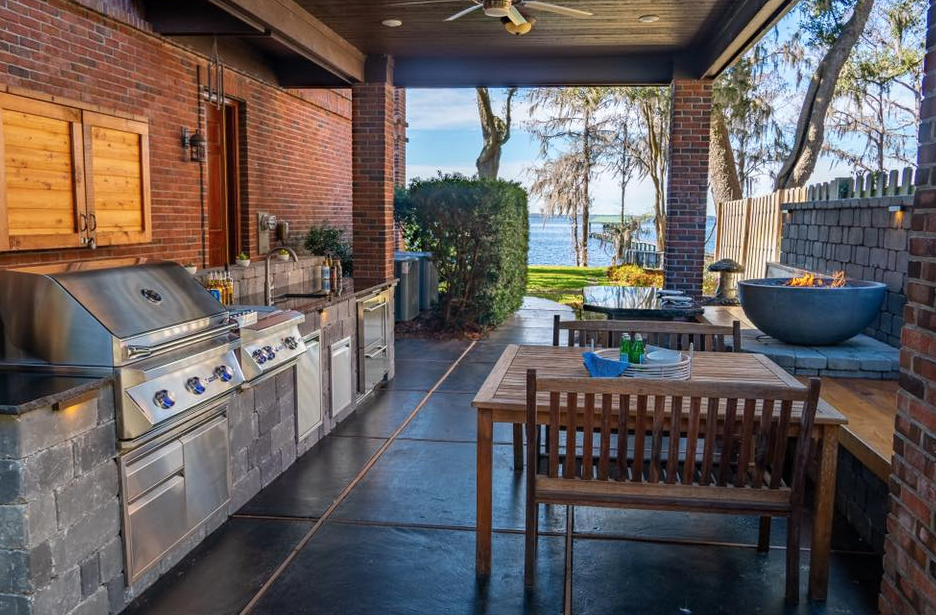 The outdoor kitchen secret is out. And everyone wants one. It's no longer enough to have a simple barbeque range and a patio set. Instead, people are wanting a much more entertaining experience in their yards and on their decks. Outdoor kitchens, replete with state-of-the-art barbeques like the Twin Eagles Grill, and enviable features like refrigerators, fireplaces, sumptuous furniture and lighting, and detailed stonework are taking the hazy days of summer to a whole new level of luxury.
Outdoor kitchens are made for relaxing and entertaining
To properly experience an outdoor kitchen, you must be prepared to get comfortable. Whether you're the owner or the guest, a well-conceived outdoor kitchen should invite you to kick off your shoes and stay a while. And for the most passionate of BBQ fans, perhaps the most fun way to cook your meat on the grill is "slow and low." That prime cut of beef or pork tastes even better if you let it cook at a lazy summer pace and low temp. The Twin Eagles Grill is exceptional in this regard. And if deep, layered flavour is what you seek, look no further than the Twin Eagles Wood Fired Pellet Grill and Smoker. With temperatures that can range from 140º to 725º, this remarkably versatile grill is capable of smoking, baking, grilling, searing and rotisserie cooking!
Here in Canada, we treasure our summers. We make them count. An outdoor kitchen is an investment in many summers to come. It's a place to make memories. A space to be proud of. And when you decide to make the leap and design your own, you'll want to be sure it hits all the right marks. Location, seating, task areas, lighting and outdoor elements like stereo systems, pools and bars are all important things to consider.
The heart of the home – inside and out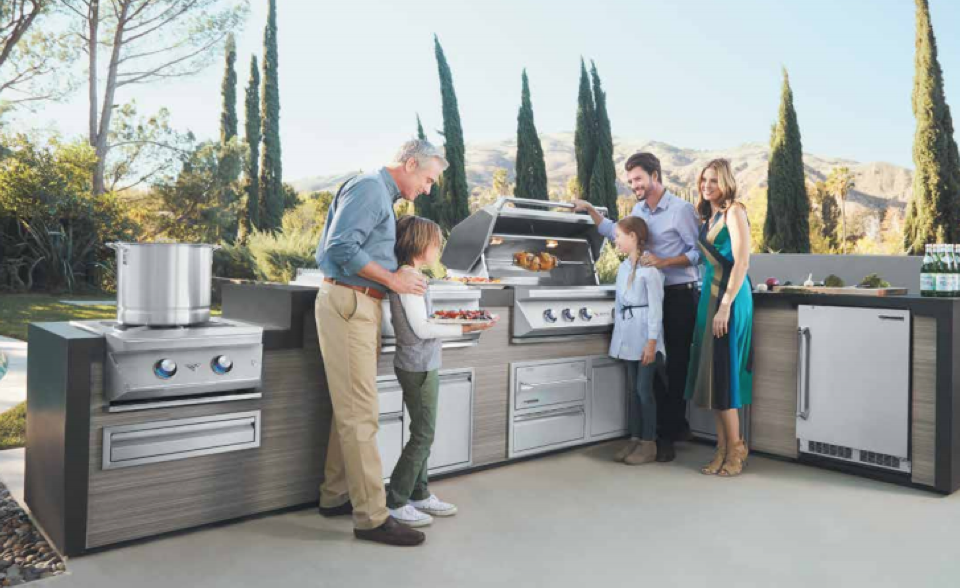 We all know that no matter how inviting our living rooms may be, the kitchen will always be the heart of the home – even if it's outside! Food has that universal ability to bring people together. And when you pair it with smart design, cutting-edge appliances and a solid dose of hospitality, it's a magical recipe.
So? Are you ready to embrace the outdoor kitchen lifestyle? The Hubert's team of designers, and fireplace and grill experts are ready to take you from vision to reality. Just pop by our showroom or give us a call. We'd be more than happy to help you get the ball rolling!