The Architectural Series fireplace from Town and Country is pure luxury
Categories: Blog
If you are looking to make a statement with your fireplace, look no further than The Architectural Series by Town & Country. Available in a remarkable six configurations, this luxe and dramatic fireplace is perfect for grand chalets and cottages, inviting hotel lobbies and cozy restaurants. In fact, we're proud to say that one of our clients, The Keg (Stittsville location), features one of these commanding beauties.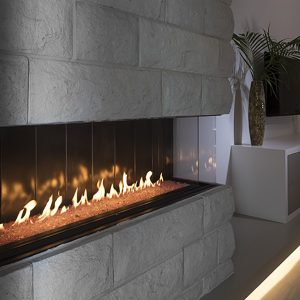 A visual showstopper
The drama and allure of the Architectural Series isn't limited to it size (which can span as long as 8 feet). It also features a full-colour spectrum LED light system, that can be as animated or understated as you like. And because design is primary consideration, there are no visible metal supports or pilot lights to interfere with their modern aesthetics.
Powered by 16,000 BTUs per foot, the Architectural Series includes a custom firebox airflow control system that allows for fine art or sleek TVS to hang directly above without fear of heat damage. And because it's designed mainly for visual performance, the fireplace features narrow-depth Cool Touch Glass, and the load-bearing construction allows you to easily customize your design.
Features of the Architectural Series
The features of The Architectural Series are numerous and the semi-custom nature makes it a fun design project to undertake. These features include:
6 distinctive configurations
Configuration length: 3ft to 8ft
Cool Touch Glass in heights of 16" or 24"
One continuous grand flame over Sheer Diamond tumbled glass
Full-colour spectrum LED light system
Combustible finish to glass edge
Loadbearing up to 1" marble
No metal supports in view
Direct ignition
Honeywell 24-volt valve
No visible pilot light assembly
Smart Home-capable
Electronic heat exchanger
16000 BTU/ft
Spark conversation with sophistication
Without question, the Architectural Series is captivating. It stops people in their tracks.
It was even on display at this year's Interior Design Show in Toronto sparking conversation with its trending hashtag #itsallabouttheflame
Are you ready to get people talking around your fireplace? Call Hubert's today or visit our showroom. We'll help you customize your very own Town & Country Architectural Series fireplace.