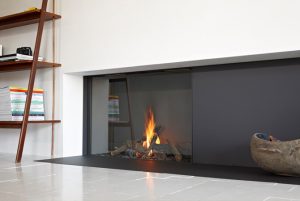 As the days get shorter and summer turns to fall, it's nice to think about priming our interiors for cozy living. And as luck would have it, the design experts are predicting 2020 will be the year of the statement fireplace. Serving a purpose beyond pure function, fireplaces are set to become visual conversation pieces.
This means mantels and hearths will be dramatic, sleek, inviting and just pure innovative. There will be bold use of colour and materials, and clever use of space and seating. But no matter what form these fireplaces take, they all still require an exceptional product to produce the fire itself. One of the best products out there is Stûv, and here at Hubert's, we carry a wide-ranging selection of number of STUV models, including both gas and wood-burning models. 
Realistic "fire experience" will have your guests doing a double take
Regardless of which Stûv fireplace you choose, you are assured a genuine "fire experience." With the Stûv gas fireplaces, flames are distributed across the full depth of the unit, with double burners. Realistic logs and stones will fool your friends and family. And if you want to reduce your heat and be efficient at the same time, it's simple. Turn off one burner, reduce heat output by half and maintain efficiency at 80%.
Do you live in a small space but still want the function and charm of a wood stove? Look no further than the Stûv 30, a compact wood stove with 3-in-1 door options – glass-door, open-door, or closed-door!
Experience it for yourself
The best way to appreciate the power, quality and aesthetics of Stûv products is to experience them first hand. At Hubert's, you can actually see the following Stûv models in our showroom … GAS: B-100H, B95C and WOOD: compact, insert 16/58in. When you see and experience the Stûv products in person, you appreciate the care and innovation that goes into them. Their contemporary appeal, understated style and respect for renewable energy is a reflection of their forward thinking.
Go take a peek. We predict you'll warm to them quickly!