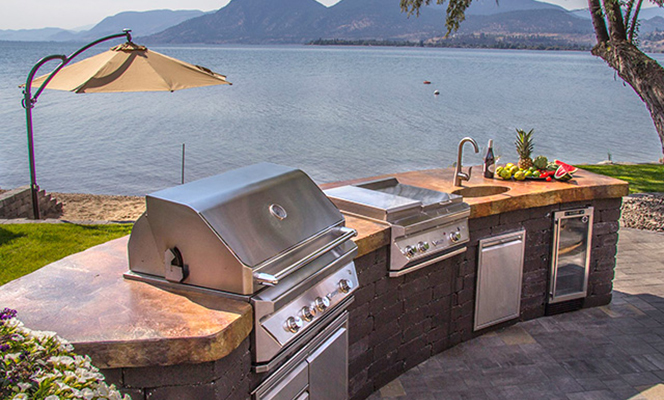 So, you've made up your mind and you're moving forward with building your dream outdoor kitchen. We're excited for you! It's going to be a game changer. But in order to avoid disappointment or regret, there are a few things we encourage you to carefully consider. You'll be glad you took the extra time to get it right.
In addition to selecting the right premium grill (we highly recommend Twin Eagles Grill), there are a number of other factors that will help turn your backyard into an oasis your neighbours will covet.
Placement
Where you decide to situate your outdoor kitchen is vitally important. You will want to think about proximity to the house – for the sake of convenience, but also sightlines. What do you want to see when you gaze out your window in the off-season? Conversely, what do you want guests to see inside your home when they're enjoying your outdoor oasis?
And don't forget to do a sun and wind study. Ask yourself what time of year and day are you most likely to use your outdoor kitchen and closely examine where and when the sun falls and wind blows in your backyard. By doing this, you can avoid a less than ideal scenario where you're simultaneously searing a steak and roasting in the blazing sun, or your fresh Italian buns end up in the pool.
Seating
Comfort is key when designing your outdoor kitchen, and your seating has a lot to do with that. How many people do you want to seat? Will you have sun protection in the form of an awning or pergola? Will the seating be built-in or moveable? And what about bar seats? Do you want your friends to have a perch near the grill so they can chat with you while you're minding the grilled scallops? Installing bar seating is great for that.
Task Areas
There's little question – an outdoor BBQ can often spell MESS. But with a little thought, you can ensure that you and your guests won't have to lay eyeson anything unsightly. Concealed storage is essential.  Have plenty of drawers and cupboards to stash implements, dishware and cutlery.Be sure to install a smart system for containing garbage, green waste and recycling – all out of plain view.
Also plan for sufficient prep and plating space. Will there often be more than one person busy in your outdoor kitchen?If so,make sure you allot enough room to maneuver without compromising access to grill, fridge and prep areas.
Lighting
Lighting is often an afterthought but it's one of the most important considerations for a well-functioning outdoor kitchen – both for the comfort of the cook and the guests. You will want to have a well-illuminated work area, as well as decorative lighting to provide warmth and ambiance after dark. Speaking of warmth, you might also consider an outdoor heat lamp – a great way to extend your outdoor living season.
Additional outdoor elements
When designing your outdoor kitchen, you'll want to take into account other outdoor elements – everything from pools, landscaping and storage sheds to fire pits, cabanas and entertainment systems. The design and layout of your outdoor kitchen will be heavily influenced by the positioning of these other potential elements. You will want to consider safety, convenience and overall aesthetics when crafting the overall vision for your outdoor living lifestyle.
By taking all of these important matters into consideration, you will help ensure that your outdoor kitchen dreams don't simply come true but that they also exceed your expectations. Don't hesitate to call on Hubert's to help make your outdoor kitchen vision a reality. We work closely with landscape architects and general contractors to make sure all of the vital pieces are included in your plans!