Spring has finally arrived and Canadians are rejoicing. And for Canadian BBQ aficionados, it's truly cause for celebration – especially those who are serious fans of commercial-grade, luxury grills – outdoor kitchens that stand above the crowd, command attention and deliver the utmost in quality – BBQs like the incomparable grills from Twin Eagles Grills.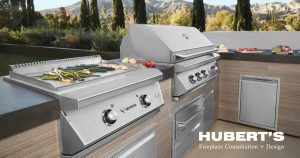 A Twin Eagles Grills purchase isn't a BBQ-in-a-box. It's a regal fixture on your expansive deck or in your outdoor kitchen. It's a multi-faceted masterpiece that will have you chuffed when friends ogle its beauty and functionality. And here at Hubert's, we're delighted to be able to offer our customers this exceptional product.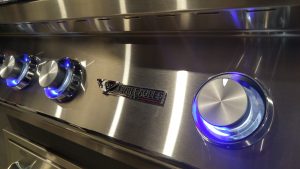 Luxurious features galore
The features of the Twin Eagles Grill luxury grill are a (prime) cut above the rest. Here are just a few of the things that make it so special:
Control panel lights that are both sexy and incredibly handy, particularly when the sun goes down and you're just starting to grill
Hexagonal cooking grates provide an increased ratio of food to grill, and the grates hold heat much longer, allowing both sides of your meat to sear evenly
Built-in rotisserie motor and storage for your rods allows you to easily stow away your accessories when guests arrive
Charcoal tray provides traditional charcoal taste without all the effort and mess of using a separate charcoal grill
Zone divider provides different heating zones, thereby allowing you to simultaneously cook items with varying degrees of heat requirements
Interior lights that turn on when you open your grill lid means your food is illuminated and you know what and when to flip, baste or remove
Simple cleaning mechanism allows you to easily flip briquettes and insert stainless steel grates into any dishwasher. This is not an easy undertaking with traditional cast iron grates.
Simply put, the Twin Eagles grill is top-of-line, supreme quality with an embarrassment of riches when it comes to added features.

Start designing your dream BBQ oasis today
There is no better time than early spring to put plans into action for a backyard that will be the envy of all friends and neighbours. And with the Canadian BBQ season stretching even longer (as late as November), thanks to the increased popularity in outdoor kitchens and improved outdoor heating and lighting, your investment in quality products like Twin Eagles Grills will be a sound one.
Here at Hubert's, we can assist you from beginning to end in the conception, design and construction of your ideal BBQ oasis and/or outdoor kitchen. We will take everything into account, from features such as sinks and drainage to workspace flow and finishes. Most who embark on ambitious outdoor kitchen designs, do so just as the ground begins to thaw. You need to establish your ground base and then build out things like patio, deck, pool and pergola. Then you can install the piece de resistance. (Might we recommend Twin Eagles Grills?).
And for those who might not be quite ready for a full-blown outdoor kitchen, our well-versed experts at Hubert's will guide you in making smart infrastructure decisions that will make installation down the road a much easier undertaking. Things like location of hard-scaping, gas and electrical needs, and municipal regulations can all be visited with a view to future designs.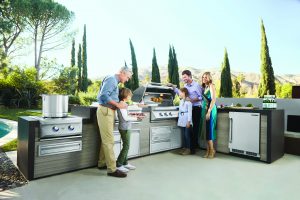 Of course, if you're ready to jump in with both feet, we're always here to help fulfill your backyard BBQ fantasy. The Twin Eagles Grill can provide everything from a power burner for a lobster boil and a beer-dispensing keg, to a teppanyaki grill and a built-in waste disposal. And believe it or not, we've heard of hosts using the warming drawer to warm towels at poolside!
An investment that will keep giving back
Whether you are an accomplished chef with impeccable standards, a host extraordinaire looking to wow guests, or a young family wanting their backyard to be the epicenter of summer, the Twin Eagles Grills outdoor kitchen is an investment that will prove incredibly satisfying.
In addition to being downright luxurious, it's also built with materials intended to last. Unlike big box store BBQs, Twin Eagles Grills are commercial grade. And when it's such an important element in the dynamics of your outdoor living space, it's designed to look like it belongs there.
So, are you ready to light the propane and make your outdoor kitchen a reality? Call us today!