The flame. The innovative design. The quality of the materials.
Hubert's is Ottawa's Exclusive Carrier of Town & Country luxury fireplaces. In fact, it's a product line that we've carried since it came on the market in 2002. And yet, with each new release by T & C, we're blown away by the innovative changes. The new Architectural Series is no exception.
When we asked Hubert's Owner/Operator Jodie Matthiesen what excited her the most about having the new Architectural Series by Town & Country in our newly expanded showroom, she said
it's the diversity of applications. It's available in such a wide range of dimensions that it is equally suited for residential and commercial applications – think shopping malls and restaurants."

Diverse it is.
The Architectural Series comes in 3,4,5,6,7,and 8 foot burner lengths with cool touch glass in 16" or 24" heights. Count in the fact that there are 6 different configurations, and suddenly designers and homeowners have the flexibility of dozens of possible combinations to play with. And with high load bearing construction, The Architectural Series is the perfect choice for those wanting a powerful 16,000 BTUs/t2 gas fireplace that can be seamlessly finished with marble or granite that will stay both cool to the touch, and vented properly for art or TV installation directly overhead.
They've gone and perfected perfection," says Jodie. The cool touch, glass is truly almost invisible. It's hard to take your eyes off the flame.
Perched upon Sheer Diamond tumbled glass, the continuous Grand Flame features full colour spectrum LED lighting. The pilot assembly is fully hidden, and the absence of any metal supports, sets these luxury fireplaces in a class of their own.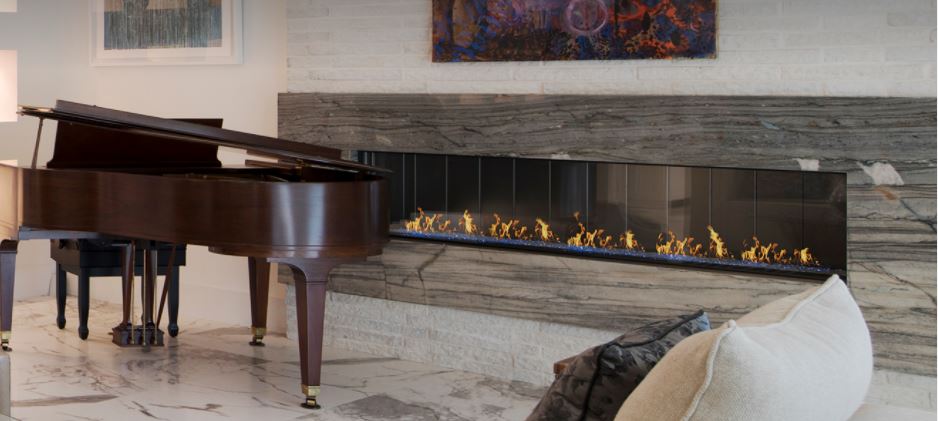 Made in Canada
Town & Country is a Canadian company and has single-handedly revolutionized gas fireplace design by being first to introduce today's contemporary, clean-face louver-free fireplaces, dispelling the myth that gas fireplaces could never mimic real-wood fire. Hubert's Fireplace Consultation & Design has a wide selection of T & C luxury fireplaces in our Ottawa showroom and our design team would be pleased to introduce you to the entire line.
Features of the Architectural Series
Six distinctive configurations
Configuration length: 3ft to 8ft
Cool Touch Glass in heights of 16″ or 24″
One continuous grand flame over Sheer Diamond tumbled glass
Full colour spectrum LED light system
Combustible finish to glass edge
Load bearing up to 1″ marble
No metal supports in view
Direct ignition
Honeywell 24-volt valve
No visible pilot light assembly
Smart Home capable
Electronic heat exchanger
16,000 BTU/ft
We're thrilled to have The Architectural Series by Town & Country installed and on display in our newly expanded Ottawa showroom, even before its launch online! As we said, it's not even hot-off-the-press yet, so you've got to come in and see it for yourself!
To stay updated on our newest collections, events, and promotions, sign up for our online newsletter and connect with us on Facebook, Twitter, and Instagram. We also invite you to visit the Hubert's Fireplace Consultation + Design Inspiration Gallery for more Gas Fireplaces, Wood Fireplaces, Outdoor Fireplaces and Finishing.